Raidgroups
Jump to navigation
Jump to search
---
To divide big Events into smaller groups, you can use the Raidgroups Feature.
Create new Raidgroups
You can create new Raidgroups at the ACP > Raids > Raidgroup Management.

Using Raidgroups in Calendarevent
When having more then one Raidgroup, you are now able to filter the Calendarevent for Raidgroups using the Raidgroup-Dropdown.

To assign characters to Raidgroups, use the Checkboxes in front of the Characters. A menu appears at the bottom of the page, offering a Dropdown for the Raidgroup.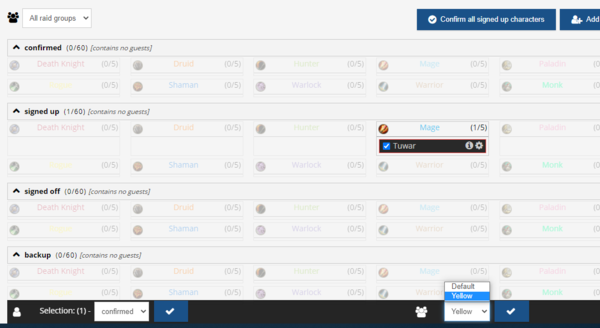 After that, you can see at the Raidgroup Icon in which Raidgroup the Character is.